Norwegian University of Science and Technology
"Experts in Teamwork" (EiT) is NTNU's signature course, aiming to develop student's interdisciplinary teamwork skills. The course is compulsory for all students in master's programmes and programmes of professional study, with 3000 students participating in 2022.
How is the course set up?
Course description
In the course description at NTNU's website, you find information about the intention, framework, learning method, learning activities and expected learning outcomes for EiT.
Organisation and support structures
With its approximately 3000 students, EiT is NTNU's biggest course. Students are organized in 'villages', which is 'classes' of about 30 students. The teaching and facilitation in each village is planned and implemented by the facilitator team, consisting of two learning assistants (LA) and one village supervisor (LL). The learning assistants are students with facilitation training, while the village supervisor is a faculty employee.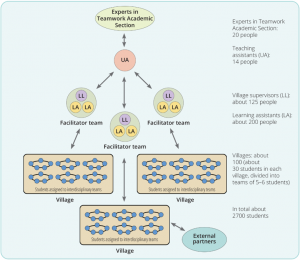 Caption: The organisation and the scope of EiT. The model is developed by Nina Haugland Andersen.
Teaching assistants (UA)
Each of the 14 teaching assistants employed in EiT follow up seven villages. The teaching assistants have experience as learning assistants and have completed additional training. Their main responsibility is to follow up and guide the learning assistants in facilitation, and they are an important link between the EiT Section and the villages.
EiT Section
The EiT Section is responsible for developing the overarching framework and educational material for the course. The EiT Section also have responsibility for training and follow-up of village supervisors, learning assistants and teaching assistants. In addition, the EiT Section assign students to villages and coordinate the academic administration of the course across faculties. Section members also engage in research activities and quality-assurance projects.
How do students improve interdisciplinary teamwork skills?
Through EiT, students develop cooperative skills in interdisciplinary teamwork. Learning to improve teamwork skills (developing expertise in working together with others) primarily involves becoming aware of your own behaviour and attitudes, and how they influence cooperation. This is achieved through team-based reflection and feedback in the team. Students reflect on the dynamics of their team, and practise changing their patterns of behaviour. Team members perform reflection activities together, stimulated by facilitation, writing down reflections, exercises in teamwork, and feedback. The skills that students develop through this experience make it easier for them to contribute to good, effective teams in working life. The concept of effectiveness in good teamwork refers to both what the team delivers and the satisfaction and learning that the team achieves.
Read more about learning methods, tools and exercises for developing interdisciplinary teamwork skills in Experts in Teamwork. Handbook for village supervisors and learning assistants (Sortland, B. 2021). The book is available on request.
How do students improve innovation skills?
The starting point for the student teams' project work is relevant problem areas facing society and the working world that give students the opportunity to apply their academic learning to arrive at innovative solutions. Students apply the knowledge they already have, so that they can gain a new and broader perspective of their own disciplinary knowledge and how it can be used.
The problems explored by the student teams are developed in thematic areas of great social relevance, either through links with NTNU's internal areas of focus or with partners outside the university. The most important role of internal and external partners is to provide a meaningful framework for the collaboration, so that students can practice their cooperative skills in a motivation and socially relevant context.
Read about how student teams are connected to different societal actors at the EiT at NTNU Q&A.
How do students work with reflection?
Oral and written reflections
Tools and activities aiming to stimulate reflection about teamwork situations are central to the experience based learning taking place in EiT.
Read more about writing reflections, feedback and teamwork exercises at the EiT at NTNU Q&A.
Book of reflections
Every student is given a copy of the EiT book of reflections. The book contains a few pages on EiT, facilitation, member feedback, team roles, as well as a guide to writing reflections.The book also contains blank pages where students write down personal reflections.
Copies of the EiT book of reflections are available on request.
How do we work with facilitation?
Learning assistants work as group facilitators. Their task is to facilitate the groups, which support the development of the students' teamwork skills. All students at NTNU can apply for the job as learning assistant, and they receive 30 hours of training.
The facilitators share with the team what they see and hear from the teamwork process, so that the team has an opportunity to reflect on the input.
In EiT at NTNU, we highlight five methods of facilitation:
Facilitation using sociograms
Facilitation in discussions
Spontaneous facilitation
Facilitation using exercises
Facilitation on team's reflection writing.
The methods of facilitation are described more in depth in Experts in Teamwork. Handbook for village supervisors and learning assistants (Sortland, 2017), available on request. EiT Section members arrange seminars with practical training in using these facilitation methods.
Overview of tools
Selected exercises that are used in teaching of Experts in Teamwork at NTNU are found in the book:
SORTLAND, B. 2021. Experts in Teamwork 2022. Handbook for village supervisors and learning assistants, Trondheim, Norway, NTNU, Section for Experts in teamwork.
Contact person
Bjørn Sortland
Head of Experts in Teamwork
E-mail: bjorn.sortland@ntnu.no